Strategy Overview
We offer a range of solutions designed to meet the unique needs of sophisticated investors. Many of our first-of-their-kind investment strategies are now industry standards.
Investing Across the Risk-Return Spectrum
The chart shows where across the risk spectrum our open and closed end funds appear. For Open end funds, UK Ground Lease, Retirement Real Estate, U.S. Core are considered low-risk while Mexico Industrial and U.S. Value add are considered high-risk. For Closed-end funds, European Core Plus are low-risk while European Value-Add and Mexico Value-add are considered high-risk.
Our tenured team offers its global client base a broad range of real estate equity, debt and securities investment strategies that span the risk/return spectrum.
Assets By Region/Business (Based on GAV)1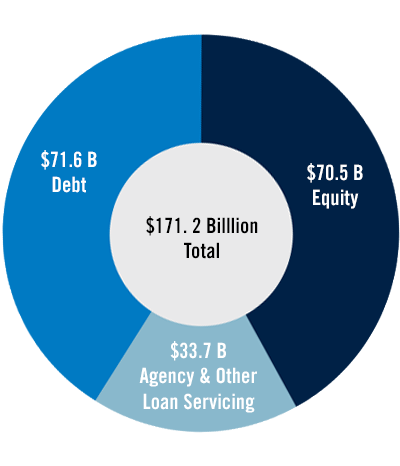 | INVESTMENT CAPABILITIES | AUM & AUA |
| --- | --- |
| Equity | $70.5B |
| Debt | $71.6B |
| Agency & Other Loan Servicing | $33.7B |
Footnote section
1As of 3/31/2019, Combined gross assets under management and administration across its PGIM Real Estate and PGIM Real Estate Finance businesses. AUA equals $33.7 billion.
Open-End Funds
Providing broad, strategic market exposure for longer term asset allocation
---
Closed-End Funds
Focused on exploiting tactical themes and market opportunities throughout the cycle
---
Customized Investment Strategies
Catering to investors that require specific investment or reporting objectives